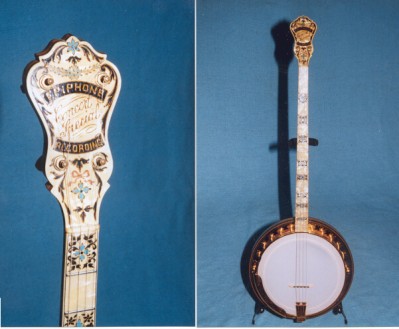 In 1927, Epiphone dropped the Dragon banjo line, and the new "Recording" series began with an abbreviated "alphabet" motif. The new models were Artist, Alhambra, Bandmaster, Concert, Concert Special, Deluxe, Dansant, and as seen on a previous page, the Emperor. Pictured here is a one of the middle ones...the Concert Special, made in white holly wood. The five ply fingerboard is faced with mother of pearl Pyralin. The position marks and peg head are hand engraved and tinted in variegated colors. The wood inlay has elaborate designs of colored marquetry. The serial number of 6306 would mean a production date of about 1928.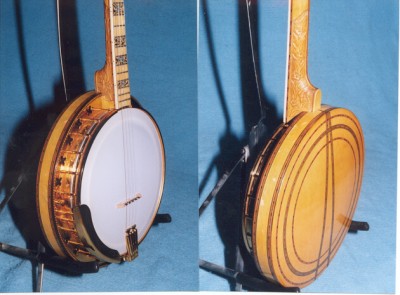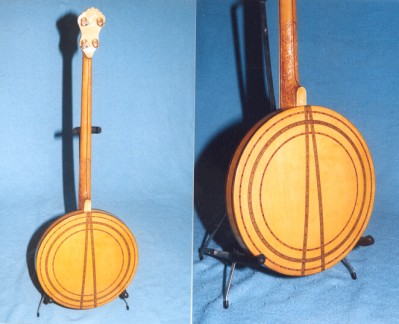 Click here for
"How much is my banjo worth?"
Jump to:
B&D #6 Ne Plus Ultra
Paramount Artists Supreme
Epiphone Emperor
B&D #7 Montana Ne Plus Ultra
Gibson All American
Gibson Bella Voce
Gibson Bella Voce (Holly)
Gibson Florentine
Gibson Florentine (Holly)
B&D Clark Special
B&D Roy Smeck Silver Bell #3
Vega Vegaphone DeLuxe
Vega DeLuxe Vox
B&D Ne Plus Ultra Custom
Weymann Style 6
Epiphone Dragon
Epiphone Concert Special
Epiphone Deluxe
Paramount Artcraft
Paramount Artists Professional
Bacon # 6 Ne Plus Ultra
Bacon Symphonie



Banjo Questions?
Ask Michael Shames

Please include photos of your banjo when inquiring about value. Your request will not be answered without photos.


Bacon & Day Banjo Dating
Visit this website:
Polle Flaun°'s
Bacon & Day Banjo Dating