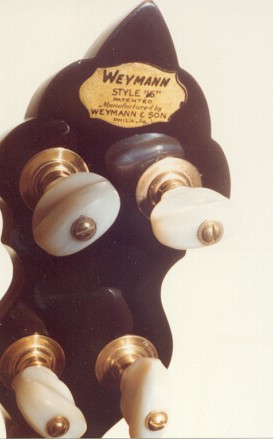 The Weymann Co. produced a fine quality banjo during the jazz age, and many musicians of the day played these instruments. However, it was difficult for the Company to keep up with the more popular Bacon, Vega, Gibson, Paramount and others, and so consequently, a top Weymann banjo today is quite a rare find.
Weymann banjos used construction features not found on any other make. The rim uses ten layers of laminated wood, tapered to give a megaphone effect. The tone volume was magnified and carried a great distance. All the brackets were encased and countersunk, so that the outer surface of the rim is perfectly smooth. Another innovation is that the distance between the fingerboard and strings may be adjusted at will by the turn of a nut in the center of a brace on the dowelstick. The # 6 plectrum featured here is one of the top-of-the line Weymann's with a serial number of 46266, indicating a 1931 date.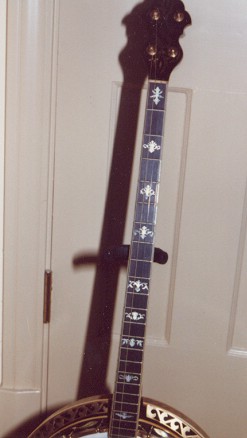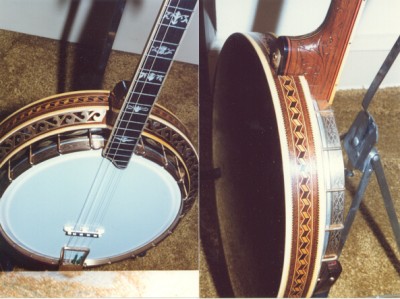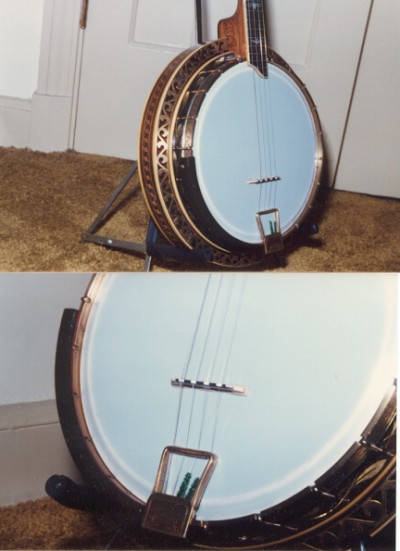 Click here for
"How much is my banjo worth?"
Jump to:
B&D #6 Ne Plus Ultra
Paramount Artists Supreme
Epiphone Emperor
B&D #7 Montana Ne Plus Ultra
Gibson All American
Gibson Bella Voce
Gibson Bella Voce (Holly)
Gibson Florentine
Gibson Florentine (Holly)
B&D Clark Special
B&D Roy Smeck Silver Bell #3
Vega Vegaphone DeLuxe
Vega DeLuxe Vox
B&D Ne Plus Ultra Custom
Weymann Style 6
Epiphone Dragon
Epiphone Concert Special
Epiphone Deluxe
Paramount Artcraft
Paramount Artists Professional
Bacon # 6 Ne Plus Ultra
Bacon Symphonie



Banjo Questions?
Ask Michael Shames

Please include photos of your banjo when inquiring about value. Your request will not be answered without photos.


Bacon & Day Banjo Dating
Visit this website:
Polle Flaun°'s
Bacon & Day Banjo Dating