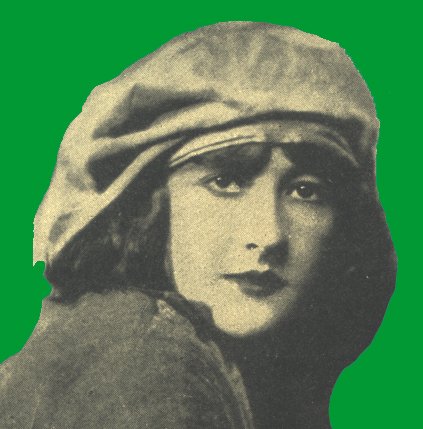 Jane Green was a popular singer and broadway actress in the 1920s. Born Martha Jane Greene on January 2, 1897 in Kentucky, Jane was the youngest of four children - the rest were brothers. Her parents were divorced in 1905 after which her mother Belle moved the family to Los Angeles to get a fresh start. In 1911 Jane and her brother Fred became known as "Those Kentucky Kids" and entertained on Spring Street in LA. Jane's mother, being part Cherokee Indian, had taught her to be proud of her Indian heritage resulting in Jane's appearances in rodeos as a championship trick horse rider.
In 1916 at the age of nineteen, Jane met Jimmy Blyler who was already a successful songwriter. The team of Green and Blyler took off performing in Los Angeles, San Francisco, New York, and the Midwest. Florenz Ziegfeld signed the duo for the Broadway shows "9 O'clock Revue" and "Midnight Frolic". Jane and Jimmy were married on September 30, 1918.
Jane's recording career started in 1920 with a recording of "Wild Romantic Blues" (Pathe 020480). By now the blues were a big part of her repertoire. Also in 1920 Jane appeared on Broadway in Messrs. Shubert (Lee and J. J.) production of the twin shows (back-to-back shows in the same theater on the same night) "The Midnight Rounders of 1920" and "The Century Revue". From the Variety review of July 13, 1920 comes this reference to Jane Green's Broadway performance:
"...Both shows are gloried cabaret entertainments, extensive revues, elevated and elongated vaudeville. Things get started in the "Rounders", for example, when Jane Green comes out and sings "Romantic Blues", and they are well under way when Tot Qualters leads in a novel and rather effective, "Clock Song"....".
The next year Jane appears in Eddie Cantor's "The Midnight Rounder's of 1921" performing the above pictured sheet music song "If I Knew".

In 1923 Jane is back on Broadway in the musical revue "Nifties of 1923" shown at the Fulton Theatre. Also of note in this production are veteran musical performers Van & Schenck and Frank Crumit.

By 1925 Jane is becoming a Broadway veteran and could be seen in the seventh edition of "The Greenwich Village Follies".

Jane also appeared in Broadway productions of "What's In A Name?" (1920), "Cinderella On Broadway" (1920), and "Ed Wynn's Grab Bag" (1924).
Tragically Jimmy Blyler fell ill and died in 1924. Later that year Jane teamed up with Isham Jones and his orchestra ("I'll See You In My Dreams"). A two-year love affair ensued resulting in Jones' composition of "My Castle In Spain" written especially for Jane. Songwriter Walter Donaldson ("Carolina In The Morning") was also enamored with Jane but she resisted his advances. Jane travelled to London in 1925 and performed at the Piccadilly Hotel and the Kit Kat Club. Sadly, Jane did not record while in England.
In the mid-1920's Jane was at her performance and popularity peek. She appears with Nat Shilkret and his orchestra. However, things went down-hill in the late-1920's. In 1927 she married pianist Ron Wilson. Also that year Jane was seriously injured in New York City when the taxi she was riding in struck a streetcar. Jane's nose had been broken and this affected her vocals.
In June 1928 Jane appeared in a couple of "Vitaphone Varieties" film shorts - "Singin' The Blues" and "The Melody Girl". Husband Ron Wilson accompanies Jane on piano in both shorts. Only the audio soundtrack from "Singin' The Blues" survives today and can be heard on the "Wild Romantic Blues" LP below. This is Jane's last recording. The film portions of the shorts have not been found to date.

Little is known of Jane's activities during 1929 and 1930 although she was heard on the "Ship of Joy" radio program in Los Angeles in 1929. She becomes a Christian Scientist in 1930. Jane can be found in San Francisco in 1931 performing on the radio show "The Golden State Blue Monday Jamboree" on KFRC. On August 28, 1931 Jane died at the young age of 34 in her Berkeley apartment. Later obituaries note that she died of a paralytic stroke. This was not sufficiently substantiated to some observers who note the strange behavior of her husband Ron. He signed her death certificate and listed Jane's occupation as "housewife".

Martha Jane Greene rests today at Forest Lawn Cemetary's "Columbarium of Immortality" in Glendale, California.
All totaled Jane's career includes some 33 recorded sides (including rejected matrices) most of which can be heard on Brad Kay's LP and CD listed below. Much of this biography is drawn from Brad's excellent and more detailed 8-page biography of Jane on the "Wild Romantic Blues" LP. I would like thank Brad for his kind permission to use some of his material on this web site tribute to an unsung and forgotten star.