Home
Convention City
Peggy English
Jane Green
Grey Gull Project
Marion Harris
Scrappy Lambert
Keller Sisters & Lynch
Ray Mayer & Edith Evans
Misc 1920's
New 1920's
1920's Sheet Music
1930's Vocalists
NJ Record Bash
Bee Palmer
Finding Bee Palmer
Pathé Rooster
Jack Pettis
Paul Specht AHO
Frances Sper
Aileen Stanley
Irene Taylor
Esther Walker
Margaret Young
Annette Hanshaw
Biography
Recordings
Sheet Music
Photos
Maxwell House Ads
Links
Brox Sisters
Photos
Recordings
Sheet Music
Movies
Bobbe Brox Obit
Cliff Edwards
Biography
Recordings
Movies
Books
Instruments
Sheet Music
Photos
Miscellaneous
Links
Ruth Etting
Recordings
Sheet Music
Movies
Photos
Jazz Age Links
Banjos
Dixieland Jazz
Search This Site
One of the most popular female vocalists of the 1920's, Aileen Stanley sold some 25 million copies of her Victrola recordings, outselling whose of the immensely popular Victor artist Enrico Caruso. Aileen (pronounced A-leen, not eye-leen) was a comedienne and vaudevillian known for her pleasing, light style of singing. She often recorded duets with Billy Murray and Johnny Marvin. With Gene Austin, Aileen Stanley introduced one of the most popular tunes of the 1920's When My Sugar Walks Down The Street.

Born Maude Elsie Aileen Muggeridge (sometimes misspelled Muggridge in press clippings) on March 21, 1893, in Chicago, Illinois, Aileen was of prominent English heritage. Her England-born father Robert S. Muggeridge died seven months before Aileen's birth from typhoid having contracted the disease from his daughter Elsie Sherrif Muggeridge who had died from the disease three weeks earlier in August 1892. Aileen's mother Maria (neé Capewell) Muggeridge who had immigrated from England in 1887, is now a widow and expectant with Aileen. She resides in Chicago with her two sons, Stanley and Robert Jr. Soon after Aileen was born in 1893.

Early Career
Aileen started singing at the age of three and was on the stage by the time she was five or six years old. Newspaper articles suggest that she was helping support her family at such an early age. Maria Muggeridge decided that Aileen and brother Robert's (he used the stage name Stanley) singing might be a way out of the boarding room business that she was running in Chicago. The children were billed as "Stanley and Aileen, the Peerless English Juveniles" and the "Premier Versatile Entertainers". In late 1903, Stanley and Aileen toured from Chicago through the Middle West, reaching the West Coast in 1904. They then toured up and down the West Coast on the Pantages Time [vaudeville Circuits] for more than a year.

The earliest newspaper reference found by this researcher to the act is a December 06, 1904 Oakland (California) Tribune citing "Stanley & Aileen, two children of ability, are splendid and receive considerable applause" at the Bell Theater. Aileen would be 11-years old then honing her stage skills while touring the West Coast.
Here is a 1906 Lima (Ohio) Times Democrat display ad featuring "Stanley & Aileen - Singers and Dancers." Click to enlarge the ad.
By 1914 Aileen, now 20 years old and sans brother Robert, begins a professional singing career on the Keith Circuit. The first solo professional performance newspaper reference found by this researcher is from the New York Times, March 3, 1914 edition that bills Aileen Stanley as a character singer performing at the Keith's Brox Theatre as one of several performers with headliner Virginia Harned. Dropping her last name of Muggeridge, Aileen adopted the more marquee-friendly name of "Aileen Stanley" to start out her professional career. The Stanley was derived from brother Robert's stage name.
By the late 1910's Aileen Stanley is starting to be noticed. Having toured most of the United States, she wants to make the big time in New York City. On a short trip there she finds work as a song plugger. She met another song plugger by the name of George Gershwin. Aileen went back to Chicago and was signed by Orpheum Circuit agent Harry Weber. By 1919 she was back to touring and preforming in Canada, the Mid-West, and the West.

Career Takes Off
In 1920 Aileen gets a small singing role in the New York show Silks and Satins. While in New York she makes her first record Alibi Blues (b/w Ernest Hare - I'm the Good Man That Was So Hard to Find), Pathe 22393, c. March-April, 1920. After three Pathe recordings, Aileen signs a recording contract with Victor Record Company around August of that year. Over her recording career spanning the years 1920 to 1937, Aileen made records for many record labels - Edison, OKeh, Brunswick, Decca, and the British label HMV later in her career while in the UK.

The November 1920 Victor record catalog shaves four years off her age by declaring "...she confesses to 23 [years old]". Aileen is actually 27 in 1920 when her recording career takes off. Aileen Stanley now becomes one of the most popular female vocalists of the 1920's. In 1921 she teams up with the most prolific and successful male vocalist of the era, Billy Murray, to record a string of duets over the next several years. The partnership lasts until their last recording together in 1929. Off and on through the 1920's they recorded 29 sides together exclusively for Victor including the immersely popular Bridget O'Flynn (listen to the mp3 below).
Secret Marriage
Aileen Stanley was the consummate career woman having devoted all of her waking hours to her talent. She was not a party girl, preferring to return to the hotel room and get a good night's sleep. She was secretly married to her piano accompanist, Robert Buttenuth (1890-1960), on January 4, 1922. There were no newspaper reports of the wedding and only her very close friends knew of the marriage. The union lasted until their divorce on July 8, 1929 in Chicago. Aileen charged her husband with drunkenness. The couple had no children. Despite the divorce their friendship lasted until Robert Buttenuth's death on March 20, 1960. Buttenuth has a song credit to his name: Tonight's My Night with Baby (1926 with Irving Caesar & Joseph Meyer). In the early 1950's, Bob Buttenuth accompanied niece Aileen Stanley Jr. (see Aileen Stanley Jr. below).
Stage Appearances
Aileen Stanley appeared in the Broadway stage productions listed below.

Silks and Satins, George M. Cohan's Theatre, July 15, 1920-September 4, 1920. 60 performances. Music by Leon Rosebrook; Book by Thomas Duggan; Lyrics by Louis Weslyn. Aileen Stanley introduces the song My Little Bimbo Down On Bimbo Isle (Grant Clarke-Walter Donaldson) and Chili Bean (Eenie - Meenie - Minie - Mo).

Pleasure Bound, Majestic Theatre, February 18, 1929-June 1929. 136 performances. Produced by Messrs. Shubert (Lee and J. J.); Music by Muriel Pollock; Book by Harold Atteridge, Max Leif and Nathaniel Lief; Lyrics by Harold Atteridge, Max Leif and Nathaniel Lief.

Artists and Models of 1930, Majestic Theatre, June 10, 1930-July 1930. 55 performances. Produced by Messrs. Shubert (Lee and J. J.); Music by Harold Stern and Ernie Golden; Directed by Frank Smithson and Pal'mere Brandeaux.
Performing Career Ends
Aileen Stanley frequented England much in the early 1930's. While there she often appeared at London's famous Kit-Kat Club and the Palladium. She recorded her final HMV sides from 1935 to 1937. Aileen was rumored by the press to have been a romantic interest of the Prince of Wales, who later renounced his throne for American Wallace Simpson. A tryst with the English royal was not true since Bob Buttenuth was always at Aileen's side and the Prince knew of their marriage even though Aileen and Bob were divorced at the time.

In the 1930's Aileen appeared on many radio broadcasts of the day. From 1932 to 1933 Aileen was on the "Parade of the States" broadcast over NBC. She is said to have made some radio transcriptions as late as 1947. By 1937 Aileen saw that vaudeville was dead and decided to retire from performing. She refused to accept the lowered salaries offered to performers of her stature. Aileen did remain in show business coaching young singers of the day. Along with Bob Buttenuth she opened a studio in New York to train young talent. When Bob died in 1960 Aileen closed the studio and went into retirement in Hollywood. She moved into a four-room house on Hammond Street.
Ms. Stanley was honored on March 19, 1982 in Los Angeles receiving a Diamond Circle Award for performers over 75 years of age from the Pacific Pioneer Broadcasters. Five days later Aileen Stanley Muggeridge passed at age 89 on March 24, 1982 at the Cedars Sinai Medical Center of cardiovascular collapse. She is interred at Forest Lawn, Glendale, California.

Aileen Stanley produced over 200 recordings from 1920 to 1944. An outstanding dedication to her singing career made Aileen Stanley one of the all-time greatest vocalists of Popular American Song.


MP3s
Included are two duets with Billy Murray.
Recent CDs with Aileen Stanley Recordings
Unfortunately, there has not been a CD issued to date with just Aileen Stanley recordings. However, Aileen can be found on various compilations listed below.

Click on CD below for more info and purchase.
Interesting Aileen Stanley Items
Here are two examples of Edison Amberol Cylinders of the early 1920's. Aileen Stanley as well other vocalists of the era such as Sophie Tucker (Some of These Days, Amberol Cylinder 4M-691 in 1911) and Billy Murray made recordings on Edison Amberol Cylinders.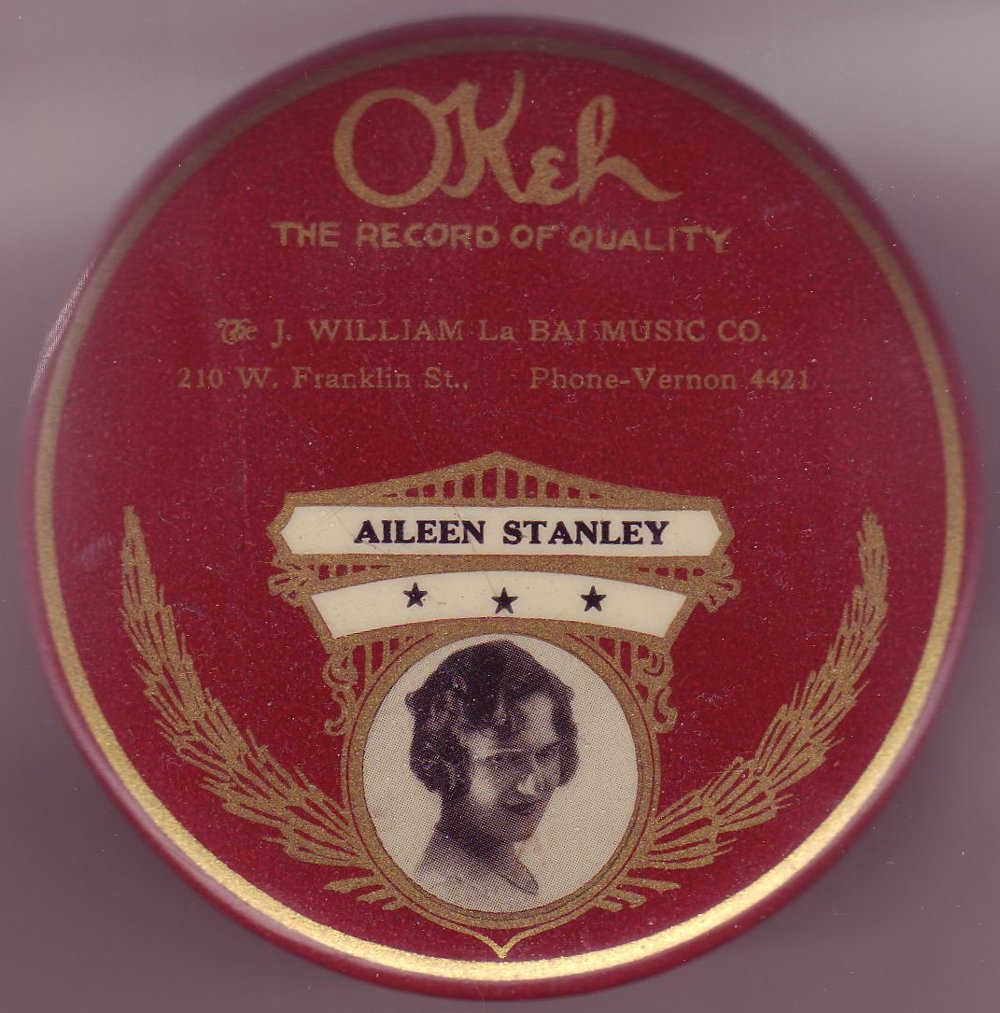 Pictured above is a unique item - an OKeh record duster brush from the 1920's. Apparently there are different models of these items used as a marketing tool and featuring other popular OKeh recording artists of the day. This example is from 1923 when Miss Stanley recorded on the OKeh record label.
Aileen Stanley, Jr.
After Aileen Stanley retired from the stage in 1937 she took to coaching young talent such as a young lady who took the stage name of Aileen Stanley, Jr. Junior's short-lived career in the late 1940's and early 1950's stalled and failed to take off for whatever reason. She was a beautiful blonde who appeared in About Face (1952) with Gordon MacRae and Eddie Bracken. Aileen Stanley, Jr. was not the daughter nor the niece of Aileen Stanley as some writers have noted. Junior's real name was Chris Heman. She left the stage in the 1950s and pursued a somewhat successful painting career in Southern California.
| | |
| --- | --- |
| | |
Editor's Notes
Some non-sheet music items featured on this page such as the record cylinders, are not from my Aileen Stanley collection. If these items are in your collection and you would like a Courtesy of... credit line, email me.

And if you have Aileen Stanley items for sale, do not hesitate to email me.

Biographical Sources
Jim Walsh's Aileen Stanley from the Six Comediennes series of articles appearing in Hobbies Magazine, October 1963 to January 1964.

Aileen Stanley, Her Life And Times, article by Grayce Susan Burian within the book Women In American Theatre by Helen Krich Chinoy and Linda Walsh Jenkins. 1981. Crown Publishers, Inc., New York.