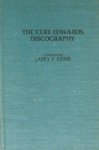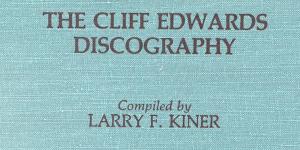 The Cliff Edwards Discography by Larry Kiner
A comprehensive discography of Cliff Edwards can be found in the book "The Cliff Edwards Discography". This meritoriously documented book contains a short biography of Cliff Edwards as well as a complete listing of movies and television shows in which Cliff appeared. By far the best (and only) book devoted to Cliff Edwards.
The book was compiled by Larry F. Kiner (Greenwood Press, Inc., 88 Post Road West, Westport, Connecticut 06881. First published: 1987. 283 pages. Library of Congress Catalog Card Number: 86-31798. ISBN: 0-313-25719-1. ISSN: 0192-334X). The book is listed at $59.95.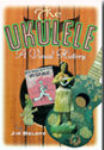 The Ukulele: A Visual History by Jim Beloff
This interesting ukulele book contains a section on Cliff Edwards accompanied by several photographs. The book contains a well documented history of the ukulele tracing its origins and includes short bios on various ukulele musicians. It is visually appealing with an abundance of colorful photographs of ukuleles, musicians, books and sheet music related to the ukulele.
Visit Jim's website for further information.
The book may be purchased from your local music store, Borders Books, or ordered direct from (800) 848-5594. It is priced at $24.95 and is distributed to music stores by Hal Leonard. ISBN 0-87930-454-5 (paperback). Published 1997.
Hats off to Jim Beloff of Billboard Magazine for a superb book!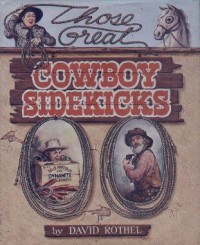 Those Great Cowboy Sidekicks
Features in-depth profiles of such fondly remembered comic character actors as George "Gabby" Hayes, Smiley Burnette, Andy Devine, Max Terhune, and Fuzzy Knight--39 sidekicks in all. Rothel interviewed Charles "Durango Kid" Starrett, Buster Crabbe, Gene Autry, Lash La Rue, Roy Rogers, and many other Western stars, sidekicks, and extras. With over 200 photos; filmographies, bibliography, and index.
Scarecrow Press, 1984.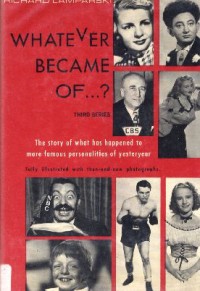 Whatever Became Of...? (Third Series)
Cliff Edwards is featured in the famous Richard Lamparski "Whatever Became Of...?" series of the 1970's.