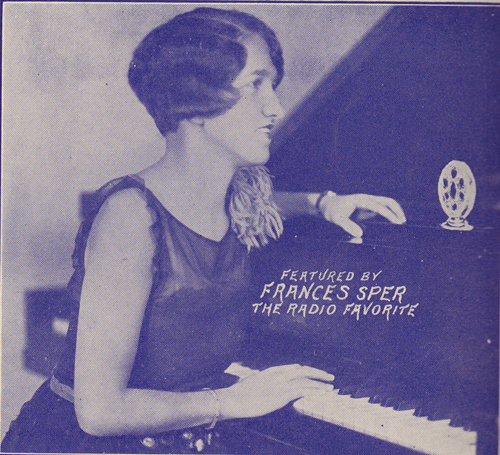 Frances J. Sper (pronounced "Spur") was a fine female vocalist, pianist, and recording artist of the Jazz Age. Frances Sper Horn (1896-1951) was married to salesman Jack L. Horn (1894-1981) and is the mother of famous jazz musician Paul Horn (1930-2014). Frances Sper was an in-house pianist for Irving Berlin and had her own weekly radio show in New York on WNYC (as well as other radio stations) from 1926-1928.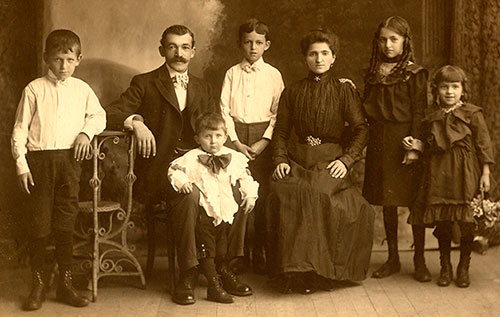 Sper Family, c. 1903
L-R: Norman, Paul (father), Edward, Felix, Miriam (mother), Joan, Frances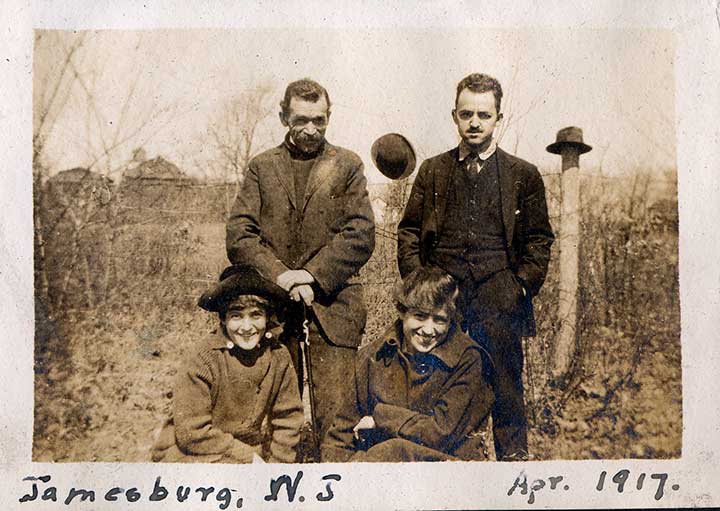 Paul (father) & Felix Sper
Frances & Joan
Jamesburg, New Jersey, April 1917
(Note men's hats on fence)
Frances had two sisters Joan and Matilda. All the sisters played piano. The sisters also had brothers Felix, Norman and Edward (Abraham). After Frances' retirement from the music and radio business in 1930, Jack and Frances lived in New York City as well as Washington, DC. Frances passed at the age of 55. Jack Horn died in 1981 in California. Both Frances and Jack are buried in Mt. Carmel Cemetery in Queens, New York.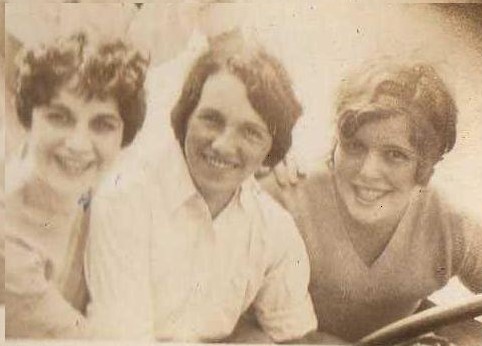 Peggy English, Frances Sper, unknown girl
Camp Copake, NY (1928)
There has been some speculation amongst record collectors that 1920's Jazz Age singer Frances Sper was really Peggy English. This notion is dispelled by the above photo which shows Frances Sper and Peggy English side by side. It turns out that Ms Sper and Ms English were actually pals who worked as part of the entertainment in the Summer of 1928 at Camp Copake just 100 miles north of New York City on the New York-Massachusetts state border.

Also, I am now one-hundred percent sure that Winnie Smith is the recording artist pseudonym issued on the Romeo record label for Frances Sper after a record listening test to confirm this.
Frances Sper's MP3s
Title
Personnel-Label Notes
Label
Date
(I Just "Wanna" Be Known As) Susie's Fellow [Brown-Dreyer]
Frances Sper, vocal blues; piano accompaniment
Winnie Smith (on Romeo)
Cameo 1035
Lincoln 2586
Romeo 293
Oct, 1926
My Baby Knows How [Charlie Davis-Harry Akst-Harry Richman]
Frances Sper, vocal blues; piano accompaniment
Winnie Smith (on Romeo)
Cameo 1042
Romeo 294-B
Nov, 1926
(I'm Tellin' The Birds, Tellin' The Bees) How I Love You [Lew Brown-Cliff Friend]
Frances Sper
Winnie Smith (on Romeo)
Cameo 1050
Romeo 295
Nov, 1926
I Meet Her In The Moonlight (But She Keeps Me In The Dark) [Peter Wendling-Alfred Bryan-Willie Raskin]
Peter Wendling-piano, Frances Sper-vocal
Cameo 1064
Romeo 311
Lincoln ?
c Dec, 1926
Oh! How She Could Play A Ukulele [Benny Davis-Harry Akst]
Frances Sper, vocal blues; piano accompaniment
Winnie Smith (on Romeo)
Cameo 1069
Romeo 321
c Dec, 1926
(You Know-I Know) Ev'rything's Made For Love [Johnson-Tobias-Sherman]
Frances Sper, vocal blues; piano accompaniment
Winnie Smith (on Romeo)
Cameo 1069
Romeo 326
c Dec, 1926
Do-Do-Do [George Gershwin-Ira Gershwin]
Frances Sper, vocal blues; piano accompaniment
Winnie Smith (on Romeo)
Cameo 1095
c Dec, 1926
What Do We Do On A Dew-Dew-Dewy Day [Howard Johnson-Charles Tobias-Albert Sherman]
Winnie Smith (on Romeo)
Marjoie Adams (on Gree Pree)
Cameo 1214
Romeo 442
Grand Pree 18726
c Oct, 1927
We Love It [Billy Rose-Mort Dixon-Harry Warren]
Frances Sper, contralto; [Frances Sper, piano]
Edison 52339-L
Apr 26, 1928
More Than Anybody [Harry Barris-Elaine Beaslee-Charlie Borrelli]
Frances Sper, contralto; [Frances Sper, piano]
Edison 52339-R
May 28, 1928